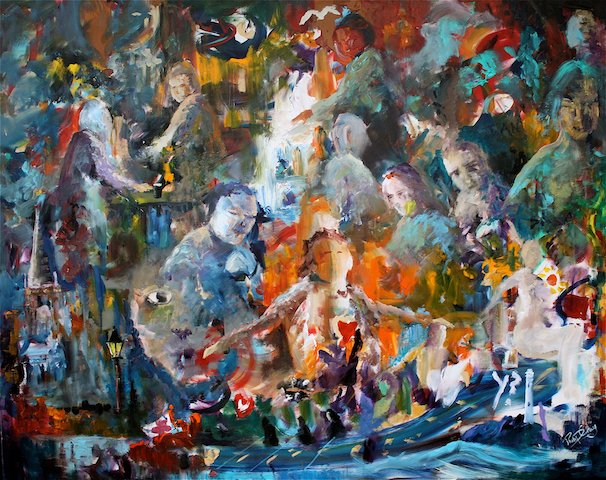 "Together"
We can make a difference
by Philip Gray
Presented to Cork International Airport on the 9th of February 2011.
Unveiled by Cllr. Michael O'Connell, Lord Mayor of Cork.

This painting involving public participation was commenced on the 11th of January 2011 at Cork Vision Centre (now, St. Peters Cork) in Cork City before the final touches were later applied at the artist's studio.
In aid of the Cork Simon Community over 200 attendees contributed by placing their own personal mark at random on the canvas. Then blindfolded, Philip worked on the canvas without any knowledge of the colour application he was making before developing the imagery with the blindfold removed. The painting began to reveal many faces and stories but the significance of this work offers a true sense of hope in the knowledge that by working together without fear we can all be part of something unique.

Click here to watch video of the creation and unveiling of "Together"

"Coming together is a beginning, keeping together is progress, working together is success" Henry Ford.

View Philips available Art HERE
Commissions accepted.

Tag us with a photo or comment if you are at the airport!
---