Roisin O'Farrell Exhibition held October 2013
China teacups return to Kinsale after 80 years! What better time to bring an exhibition of china teacups to Kinsale than during the Kinsale Gourmet Festival!
Known for her colourful, sumptuous paintings of interiors, artist Róisín O'Farrell is introducing a collection of delightful paintings based on her Grandmother's china teacups that will go on exhibit between two venues this Tuesday to Sunday 20th October in the scenic harbour town of Kinsale.
As part of the ever popular foodie weekend in Kinsale 11 - 13th October her paintings will be on show in Fishy Fishy Restaurant and at The Gallery Kinsale on Main street.
Speaking of the exhibition celebrity chef & Fishy Fishy proprietor Martin Shanahan said "When The Gallery Kinsale approached us to joint host the exhibition it was an obvious choice as Roisín's teacup paintings are bursting with light and colour, brimming with character, good fun and a bit of devilment; just the kind of atmosphere we enjoy during the gourmet festival!"
Roisín paints bright, vibrantly colorful paintings in textured, buttery oils with a contemporary finish. Her work is influenced by a sense of home, and feature warm, light filled period interiors, tumbled families of rain boots, and quirky china teacups.
The beautiful antique china belonged to Roisín's grandmother, herself a native of Nohoval near Kinsale. Like much of O'Farrell's work the inanimate becomes characterful and in her hands this delicate 1930's china becomes both contemporary and fun.
Roisin's Grandmother would have been delighted to see her treasured china return to Kinsale even if she may not have treated them in such a contemporary way.
Impactful, beautiful and a little vintage, the teacups are set against the lush impasto palette knife backgrounds that have made O'Farrell a favourite. A 'must see' at the The Gallery.
---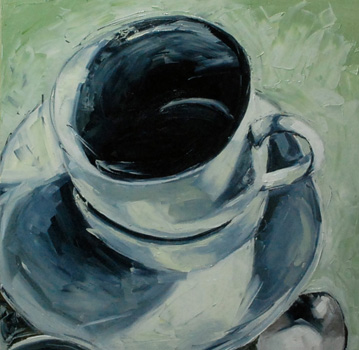 (Ref #TGK205) Tipple
29 x 29 inches framed, oil on canvas, signed




(Ref #TGK738) Ship that pass in the night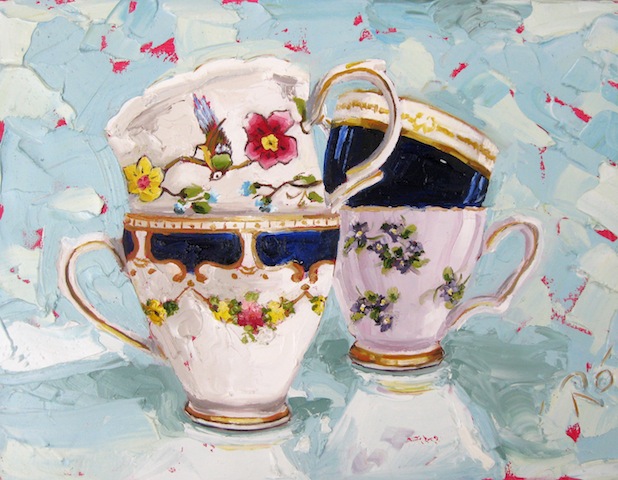 (Ref #TGK739) Our is not to reasons why





(Ref #TGK742) On tenderhooks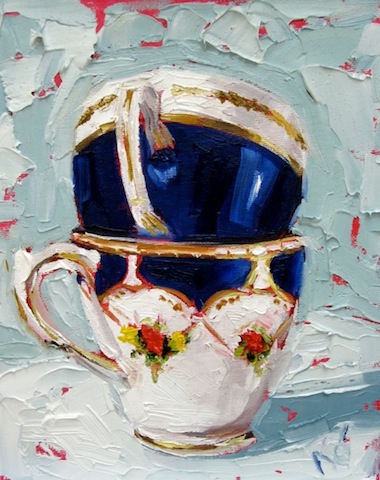 (Ref #TGK746) Morning cuppa
25 x 20 inches




(Ref #TGK747) Tea for two
25 x 20 inches




(Ref #TGK753) If teacups could talk
30 x 60 cms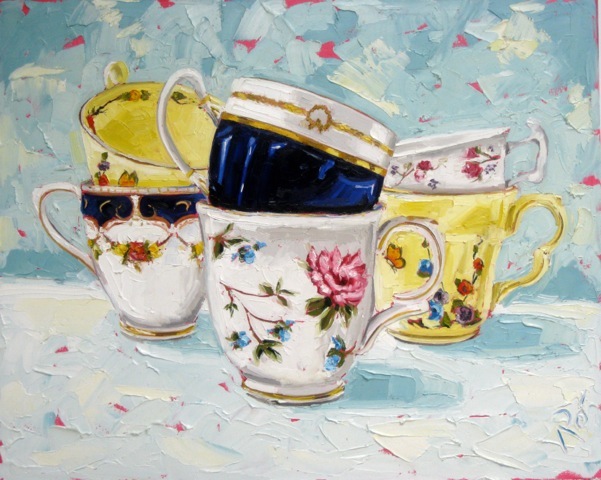 (Ref #TGK1013) Ladies first
Image size 218x 14 inches, 21 x 25 inches framed, oil on board